Life is made out of dreams and certainties. That is the reason why I have chosen Dream & Certainties as the title of Moses Rubin second LP. It is a record in which I've been working on for the last two years and by which I aim to continue with the essence of this musical and personal project that was born four years ago in Leeds (United Kingdom).
Its recording, for which I've counted on the same musical and artistic team from my previous works will start in Audiomatic (José M. Rosillo studios) in December 2019. The record will be released in different phases during 2020 and so the crowdfunding will be parallel to the first steps of the recording sessions.
Who is Moses Rubin?
Moses Rubin its me, a boy from Madrid who's been holding a guitar and surrounded by records for all his life. Here is the evidence...
For those who have already heard about me, you all know this is not my first record. Indeed, Dreams & Certainties will be Moses Rubin's second LP and the fifth record I'm making in only three years: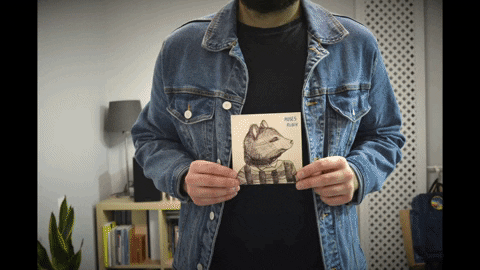 Bear with Me (EP, 2016)
Subtle Atmospheres (LP, 2016)
Everybody's Lover/Tonny Higgins (Single, 2017)
Leeds (EP, 2018)
You can listen to all of them here:
Many of you have already seen Moses Rubin in concert. If not, this is how it sounds:
During the last years I've been lucky to hear some nice words about my records. These are some of them:
Subtle Atmospheres is a sensational debut album, with a classic scent, good deeds, and supreme quality (...) a great compilation of songs that corroborate the good signs sketched in his previous work of five songs called "Bear with me". (...) Moses Rubin's singing diction together with his vocal tone are in the wavelength of Cat Stevens, Jim Croce or James Taylor: big words. Luis de Benito - Islas de Robinson, Radio 3.
Sometimes I listen to some songs of Moses Rubin –as "Leeds"- and I wonder... Is it Moses Rubin or is it Cat Stevens? Julio Ruiz - Disco Grande, Radio 3.
It was absolutely impossible for me to resist the charm of Subtle Atmospheres"; a delicious cocktail of precious folk with sublime pop melodies, one of the greatest and most pleasant musical surprises of 2016. J.F. León - Onda Cero, Rock 'n Roll Animal.
It's really good to hear some real music again. Bobby Whitlock, Derek & the Dominos.
Why a crowdfunding? What do you get in return?
Crowdfunding is a wonderful of sharing with you the beautiful and difficult process of making a record. As you can imagine, apart from a huge work and an enormous dedication it entails an economical effort that is difficult to face alone.
Your help through this patronage system makes it easier to start the project. Nevertheless, it isn't just a solidarity contribution as long as every one of them has a reward corresponding its value. That's is why trust is the key of this project and you have my word that I will give all I got to make a great record. Now we have *40 days to build this together.
As it could not be otherwise, the main rewards are the 12" vinyl or CD copies of the LP but there are some other things. In this sense, you can make your contribution with packs that include other records from my catalogue in all formats, merchandising or limited special editions including the record demos, copies of the original manuscripts of the lyrics… Of course all comes with a personal message from me as a sign of gratitude.
You can also buy tickets to the release shows or hire me to give a concert solo or with my band wherever you like. As you may see in the rewards section, there is a wide range of contributions specially designed for you to choose your favourite or the most appropriate for your budget.
And remember, it does not matter where you are. Rewards will be delivered at hand, in the concerts, collection points or sent by mail worldwide (shipping costs included).
Where will your money go?
Money will be spent in recording and editing the record both in a 12" vinyl edition and in CD. Moreover, there will be also a part invested in other kinds of rewards apart from the records or the concert tickets. Nevertheless, the total costs of the record will be a bit higher reaching 4.000€.
Concretely, the money collected will be spent this way:
Recording, mixing and mastering: 1.800€

Edition: 1000€

Merchadising for rewards: 200€
As you may have seen, 3.000€ are approximately 75% of the total budget of the record. The rest, (25%) will be put up by me… Unless we surpass the goal!
Calendar
I think things are better if they are done calmly. However, all the process of the record is detailed below. Furthermore, as patrons, you'll receive regular updates about the progress of the project and exclusive rewards such as pre-listens of some of the songs.
October - November 2019: Rehearsals and planning

December 2019 - February 2020: Recording sessions

March 2020: Mixing, mastering and pressing

April 2020: 1st digital single release

May 2020: 2nd digital single release.

September - October 2020: Release of Dreams & Certainties. Release shows and rewards delivery.
+ Info
If you want to know more about Moses Rubin please visit my websites or social media:
mosesrubinmusic.com
Facebook
Instagram
Bandcamp
Spotify
Thank you
For some time this record hasn't been more than a dream. I would be lying if I told you that it has been easy to give it a halo of certainty. Life is made out of dreams and certainties and it is true that we need help sometimes. This time is you who I need to make this record to be one of my certainties, something that's ours. I promise I will make an honest and pure LP. As I told you three years ago, I promise I'll be myself through my music.