"My grandfather's death made me face a reality I had never wished for, the deepest emptiness I've ever felt. Im part due to the fact that I loved him as a father, but also due to all that knowledge and mastery that was lost with him. He was never going to be able to correct my posture when drawing, or scold me when I picked up the pencil incorrectly. It was clear then, that something had to be done. Somehow I had to preserve his memory, bring his work and ideals to light. "
-Gabriel Cobos Tello (Director)
** EFEST is a documentary that invites you to discover who the Valencian sculptor Josep Tello Andrés was **. A tribute to the life and work of this artist of the form, of this pursuer behind the joy of creation. Original from Ruzafa (Valencia), born at the time of the Civil War and adopted son of Archidona (Málaga), his extensive work has gone unjustly unnoticed in the Valencian and Spanish artistic environment.
EFEST aims to tell Josep's story as if it were a fairy tale. With a ** combination of animation and film **, we present a journey through those who intertwined with his artistic work and were forever marked.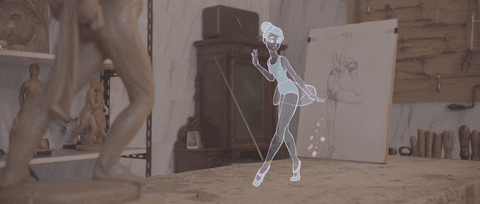 ** Josep Tello Andrés ** was born in the Ruzafa, València, in 1932. From a republican family, he suffered the worst of the Civil War, hard times when there was hunger and nothingness. Luckily, his family remained a bastion of warmth and affection, which allowed Josep to develop freely and thus find his ** passion for drawing and sculpture at an early age. **
In 1946, thanks to his effort and in a way his innate ability, Josep managed to enter the School of Arts and Crafts in Valencia, where he stood out as a student and achieved outstanding results. His excellence led him to get in 1951, the entrance to the School of Fine Arts of San Carlos, where he continued to collect the best grades. Here he studied anatomy, geometry and technical drawing, disciplines that accompanied him throughout his artistic career.
When he finished his studies in 1956 he opted for the profession of teacher, teaching fine arts and technical drawing. During his more than 40 years as a teacher he toured various places in Spain. Among the many destinations, Archidona (Malaga) and, of course, Valencia stand out. It is in these two places where Josep carried out some of his most important and beautiful works. And it is here also where his footprint is most notable, especially in those people who were lucky enough to meet him and see him work.
We want all the stories told with grace and love by Josep, wether they were from his life or from his work, to become something we can enjoy and hopefully learn from.
The aim is ** to publicize the work of Josep **, which despite being highly appreciated by many people, was never recognized in the Valencian and Spanish artistic environment. This recognition is sought by our conviction that such an outstanding body of work should be available to many and not to a few.
"Art is doing well that what seems to be what it wants to be, a representation of what's relly there. Maybe with personal tints and strokes, differentiated and nuanced alongside other authors, avoiding unnecessary unknowns and not forcing you to have to guess what it is if you can be clear in your presentation. Thus enabling its meaning and motivation to become evident "* (Josep Tello Andrés).
Given the artistic nature of the project, we have been able to develop a series of ** rewards ** that we consider very valuable, in order to thank you for your contributions. You can consult the catalog on the right side of this website.
The campaign will last 40 days and, after completion, the rewards can no longer be obtained by any means. If you are interested in a particular art work, do not hesitate to contact us.
Shipping charges are included in all rewards.
By the way! If your reward includes attending any of the planned events, we can hand deliver the rewards and thank you for your support in person.
In the following section we present some of the available rewards in detail.
In some rewards we include art prints, which are differentiated between: drawings from the documentary (made by Loopy Teller Studio, which are part of the short story in the documentary film) and drawings made by Josep Tello. All sheets are Ultrachrome copies on 190 grs matte paper.
If you choose one of these rewards, you will have the option to ** choose from the drawings you like the most ** (as many as the reward includes). Once the crowdfunding campaign is finished, we will be in contact so that you can communicate your selection to us:
These reward includes a selection of drawings from the ** Lonja de la Seda de Valencia **, illustrating its iconography and history. These drawings are prints from Josep's work and will be printed on Ultrachrome sheets of 190 grs matte paper.
Josep worked for many years drawing the Lonja, in preparation for its appointment as a World Heritage Site by Unesco. These are some of the first ones that we have reproduced. We hope you like them!
This is ** a exclusive second edition ** of some of Josep's drawings. These high-quality artistic reproductions are ** serialized ** and are delivered with ** certificates of quality and authenticity **.
All reproductions will be Ultrachrome copies on 300 grs (100% cotton) photographic paper. By combining these high-quality papers with professional printing methods and the work of our professional photographer, the end result is a series of drawings virtually indistinguishable from the originals.
These art reproductions will be carried out by Estudio Paco Mora C.B., as well as their packaging and shipping.
One of our biggest challenges, and at the same time one of our strongest motivations, are the ** 2D animations and motion graphics in After Effects ** that form parts of the documentary. Until now, we have been working on the character design, as well as the outline and coloring of the environments.
** Proceeds will allow us to bring them to life ** and thus complete Efest's story.
In addition, the documentary will have its own ** original soundtrack **, for which we are working with great enthusiasm, only requiring one last push. This will be the element that brings the finishing touch to this production.
Animation production: from October 2019 to July 2020.
Video Editing and Posproduction: from December 2019 to July 2020.
Translation and subtitling: from April to July 2020.
Diffusion in festivals: from July 2020.
Release: 2021.
The documentary is directed by Gabriel Cobos Tello and Begoña Tello (grandson and daughter of Josep Tello), and produced by Fractal Films.
"We are a group of young people who have decided to make the leap and form an audiovisual production company with Valencian roots. We began our professional activity with Efest as our first major project, but with a view to a future where we can carry out many other projects Equally interestin. What we value above all else is that energy, which regardless of age, is shared by everyone who has a true passion for what they do. *

We owe Efest our roots, as it is the reason behind why Fractal Films was created in the first place. Producing and directing this project has been a wonderful dream come true, and now we only hope that all our work and effort is reflected in the final product. "*
"Hello! We are Carlos and Rubén, members of the Loopy Teller Studio team, dedicated to comics, illustration and visual development since 2015. At Efest we are in charge of the graphic section of the documentary, illustrating the different scenes of the story that tells Josep's biography. We prepare the ilustrations so that Felipe, the motion designer, can later animate them and give them the final touch of magic. *

We have put all our enthusiasm and energy into this project and we are very satisfied with the progress, now we hope that you will like it too! "*
Maybe have a look at our webpage ;)
If after reaching this point you still have any questions about the project or the rewards, you can contact us through our social networks or in the final section of this page.
Throughout these 40 days we will publish updates on the project, both in Verkami and in our networks.
We hope that you will help us make this project a reality and become part of our team, either through a contribution or by spreading the campaign. Thank you very much!

Like Efest on Facebook!

Follow Efest on Instagram :)